We have been super busy the past 2 weeks so even though it may not seem like it, I've been really behind on my reviews/giveaways but I really wanted to just post a REGULAR post!
If you don't know by now, we live in Orlando, FL. So of course we're right next to Disney World. We can go swimming every single day in our backyard but what's the fun in that, right? We have access to Disney Resorts so we often go to them.
While we were there Makenna had the chance to make her very own Chocolate ice cream! The bag was extremely heavy though so I did it for a second then strong Daddy had to finish it up for us :)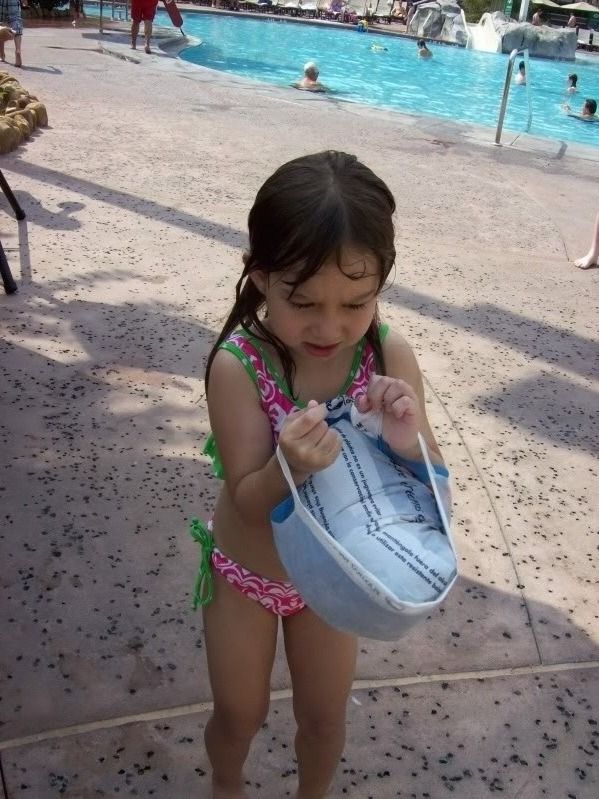 The finished product was sooo YUMMY
Disney always makes everything fun! They even had a song contest. They played 25 TINY clips of Disney songs from different Disney movies. You had to guess the title of the song & what movie it was from.
And I won! :) Yeah... I'm badass... I know! lol.
Here was the prize we received! Daddy was sooo happy. haha.
We've seen a couple movies this week, went to the park nearly every day and stopped at the mall through out the past 2 weeks as well.
Then of course the past two days we've been in Clearwater Beach, FL (about 2 hours West of us). Both days were soo relaxing! Day 2... I didn't feel the best so I stayed in the Hotel a lot but I did watch them from the balcony most of the time.
I had never been to Clearwater before but only heard good things. Ugh yeah, the water wasn't so "clear"! lol. It was actually pretty gross... lots of seaweed and it wasn't really blue. The temp was amazing though! Not too hot but not by any means cold what so ever.
(Makenna chasing the birds. way back there in between the two umbrellas....)
Tonight when we got back I really wanted to do something with Makenna since I wasn't on the beach with her much today. So we went to the mall and we both got pedicures! It was definitely much needed! We both got pink on our toes but she got a glitter top coat so she was a happy camper by the end of the night!
Tomorrow (well today since it's TECHNICALLY Friday) we have yet another busy day & at night we're going to go see Shrek!!
Next week brings even more busyness when we are going to Disney World (we haven't decided on which park yet though...)! :) Yay for me... it'll be grrrrreat since I can barely walk without dying. Wheel Chair here I come! hahaha.